<![if !vml]>

<![endif]><![if !vml]>

<![endif]><![if !vml]>

<![endif]><![if !vml]>

<![endif]><![if !vml]>

<![endif]><![if !vml]>

<![endif]><![if !vml]>

<![endif]><![if !vml]>

<![endif]>
<![if !vml]>
<![endif]>
Contact the
First Maryland
<![if !vml]>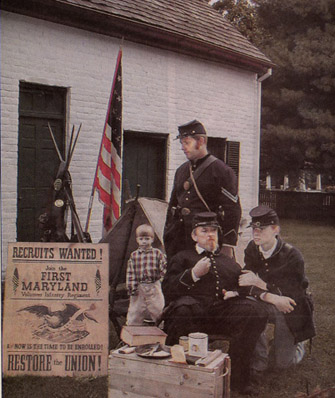 <![endif]>
Do you want to join us in defending our state and restoring the Union?
Please email Corporal Nash firstmdus@comcast.net You can also Facebook message the unit, Firstmdus, and we will have our Recruiting Officers, contact you with more information on joining the First Maryland and the hobby of Civil War Living History.
Note:  No one under the age of 16 will be allowed to carry a rifle. However, we can always use musicians (must contact Chief Musician Tim Ertel and meet his separate requirements) and unarmed period civilians.
All minors must have parental permission to join the unit.
To Join: Contact the recruiter or the Webmaster and go to the Recruit Page for further information.
If you have a potential event for the unit please contact us by Dec. of the year before the event (i.e. we are taking proposals for 2013 at this time.)
Send mail to the web master with questions or comments about this web site or the unit.
Last modified: Feb 2015
Best viewed on Internet Explorer 7, Mozilla Firefox 2.0.0.11 or later
copyright 2003 First Maryland Volunteer Infantry Regiment US